L'OCCITANE AND FOREO HAVE JOINED FORCES FOR A ONE-OF-A-KIND COLLABORATION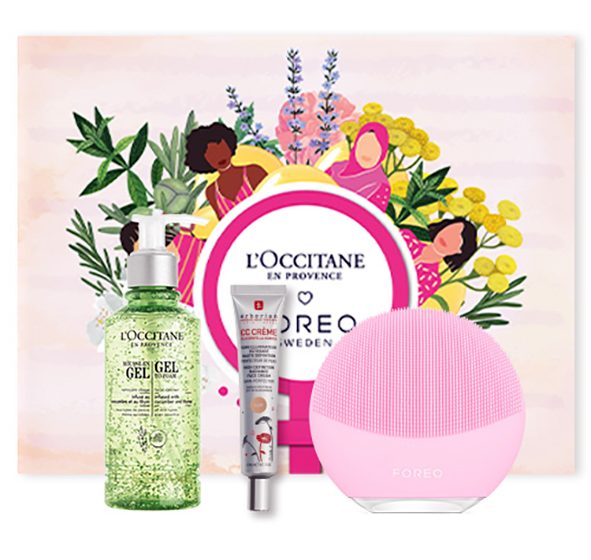 Be natural, Be powerful, Be You!
Who doesn't want a kit that is made to deep cleanse and revitalize for perfect looking skin?
FOREO x L'Occitane sets are made for YOU!
The best of nature and the best of technology came together to create a perfect routine for all skin types. For you, who truly believe in the shift towards clean and green beauty solutions – we are here for you. We believe women are naturally beautiful, we believe in YOU, the Powerful YOU, the Natural YOU – you are the strength of the rising women.
L'Occitane and FOREO have joined forces to share their vision to unite beauty and technology, nature meets nurture!
The collaboration between FOREO and L'Occitane has followed a narrative that reflects on their shared values and commitments as brands. Their main vision is to make self-care simple, enjoyable, and most importantly suitable to women with all skin types. They are both committed to producing products that are effective and clinically tested to provide real results to their consumers in a safe way.
L'Occitane has 6 commitments as a brand and a fundamental one is empowering women and investing in them. This collaboration amplifies this commitment through highlighting and emphasizing that natural beauty is the beauty all women should strive for.
FOREO was the perfect partner to accompany L'Occitane on their mission for endorsing and encouraging natural beauty. FOREO comes from "FOR Everyone" and that illustrates their mission– to tear down labels while inspiring everyone to be themselves. They have shaped the beauty-tech industry and have made a significant change in making self-care more accessible and enjoyable.
FOREO x L'Occitane Middle East Sets
This collaboration includes 2 types of sets with different price points and different target audiences. The first set consists of the LUNA mini 3 sunflower yellow, L'Occitane cleanser and Serum. The second set includes the LUNA mini 3 pearl pink, L'Occitane cleanser and Erborian CC cream. The sets are exclusive across all L'Occitane stores across the GCC and online.
A STORY OF RESPECT FOR THE PLANET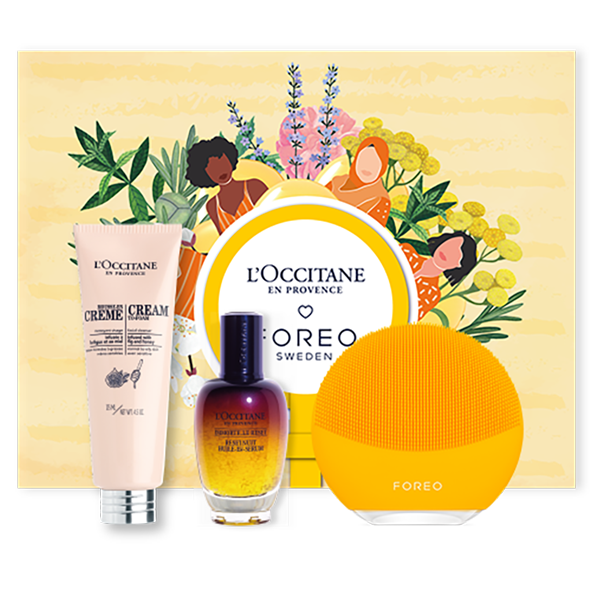 Both FOREO and L'Occitane share a commitment towards sustainability for a better tomorrow. Not only does FOREO offer game-changing beauty tech devices, but they also love and respect the environment. Their products are made from long-lasting ultra-hygienic silicone, they ensure to minimize waste. Similarly, L'Occitane works directly with over 130 French farmers and 10,000 pickers from the immortelle fields of Corsica to the lavender fields of Provence – to ensure that the ingredients they use are of the highest quality and sourced as sustainably as possible.
L'Occitane and FOREO encourage women to embrace their beauty from within fearlessly, which is why the main purpose of this collaboration is to Be natural, Be powerful, Be You!