Leading US Healthcare Group CommonSpirit acquires equity stake in the UAE's Arabian Healthcare Group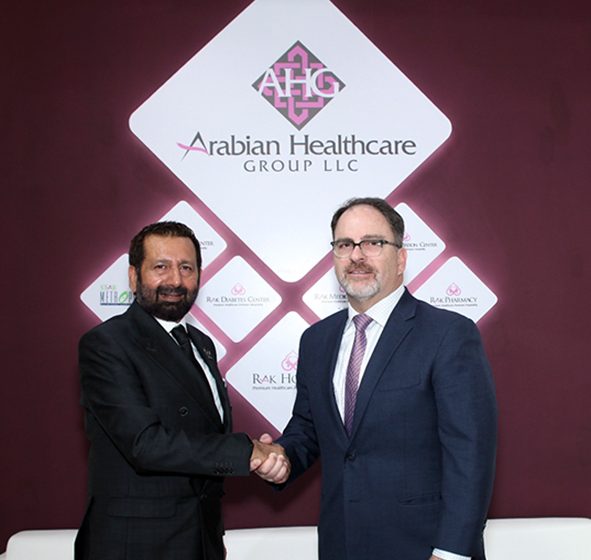 ·       Strategic alliance through equity investment to support the group's ambitious addition of tertiary services and expansion of RAK Hospital.
·       A 'Patient Navigation Center' at RAK Hospital to facilitate access to exceptional clinical expertise across CommonSpirit's affiliated network across the USA.
·       Patients in the Middle East and Africa (MENA) region to benefit from access to CommonSpirit's expertise through telehealth and second opinions.
·       Collaboration to support state-of-the-art US protocols for enhanced patient experience, outcomes and satisfaction.
February 1, 2023; Ras Al Khaimah, UAE
Dignity Health International (DHI), the international arm of CommonSpirit Health, one of the largest hospital systems in the United States, is furthering its relationship with RAK Hospital, the flagship multispecialty hospital of the Arabian Healthcare Group (AHG), by acquiring a strategic minority equity stake, further strengthening its existing relationship with AHG, which began in 2018. AHG will become the common platform to provide advanced healthcare services in the UAE and in the wider MENA region.
DHI and AHG are working together on a growth strategy to enhance further the level of healthcare services provided in the Emirate of Ras Al Khaimah, which will be supported through co-investment and collaboration. This strategic alliance will help bring US healthcare protocols to RAK Hospital to provide patients with the highest level of care.
Further augmenting RAK Hospital's position as a preferred medical destination for both international and local patients, the alliance will provide patients with access to speciality care in the areas of cardiac services, orthopaedics, neurosciences, musculoskeletal conditions, and rehabilitation at the hospital in Ras Al Khaimah. Moreover, for specific and advanced medical requirements, RAK Hospital will facilitate the patient's journey by aligning them with the most suitable facility from CommonSpirit's 140 hospitals and more than 1,500 care sites across 21 US states.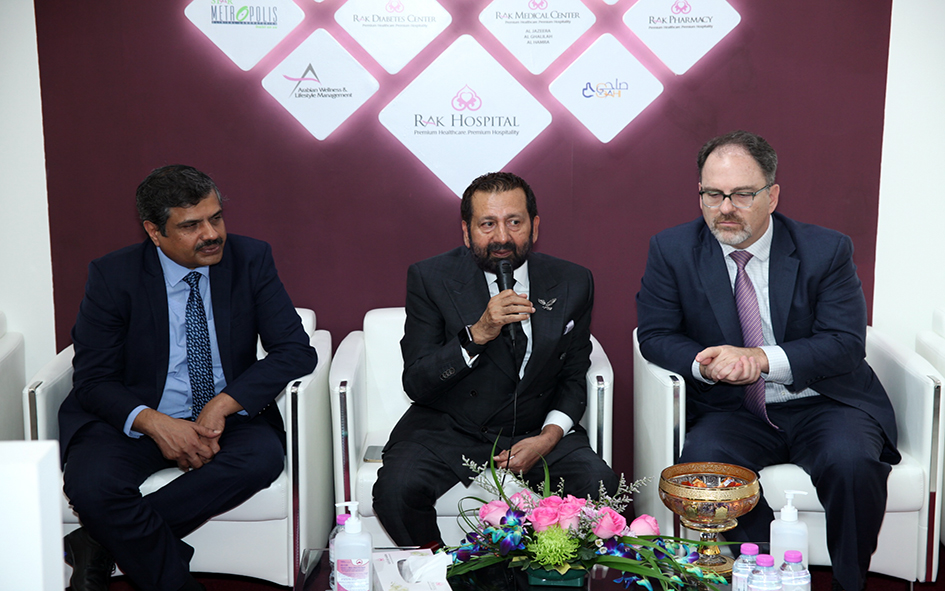 Dr. Raza Siddiqui, CEO of Arabian Healthcare Group and Executive Director of RAK Hospital, said, "This is the first time a top US healthcare player has directly invested in a hospital in the Middle East. With CommonSpirit's ownership position, RAK Hospital has access to CommonSpirit's network, which is a one-of-a-kind relationship. Through this partnership, AHG is delighted to bring the most advanced US protocols and procedures to Ras Al Khaimah, positioning RAK Hospital as a preferred healthcare facility for advanced tertiary care requirements."
AHG and DHI will collaboratively develop and manage a Patient Navigation Center, which will provide patients and their clinicians with access to exceptional clinical expertise across CommonSpirit's affiliated network and further support patients seeking healthcare services in one of CommonSpirit's centres of excellence in the United States. Through this integrated Patient Navigation Center, AHG and DHI will help these patients identify the most appropriate CommonSpirit facility for treatment and also manage and provide continuity for pre and post-care. Clinical teams from both health systems will be able to coordinate care virtually to reduce the burden of medical travel for regional patients.
The Patient Navigation Center will be a hub and spoke model, with RAK Hospital serving as the central hub, and will be completed by developing satellite navigation centres located in other countries, such as Ghana, Kenya, Nigeria, Pakistan, and Bahrain, among others.
Furthermore, DHI and AHG management teams are also collaborating on a visiting physician program in which CommonSpirit physicians will work with RAK Hospital on developing best-in-class protocols for targeted specialities. In addition, by leveraging digital technology, DHI and AHG will seamlessly provide RAK Hospital patients with access to CommonSpirit expertise through telehealth services.
 "Our mission to improve the health of all people extends beyond the United States. We are thrilled to bolster our relationship with RAK Hospital further to bring CommonSpirit's clinical expertise, innovation and high quality of healthcare to the MENA region,"said Dan Morissette, CFO of CommonSpirit.
The expansion of the existing 65-bed RAK Hospital to 200 beds will enhance healthcare delivery by providing advanced tertiary care. The initial focus will be on cardiac services, neurosciences, orthopaedics, musculoskeletal conditions, rehabilitation and select additional services. The hospital expansion project is expected to be completed by the end of 2025. Another major focus area will be virtual tumor boards, which will allow for consultation and diagnosis of complex cancer cases, allowing patients to stay close to home.
Gregg Davis, Senior Vice President of CommonSpirit and Chief Administrative Officer of Dignity Health International, said, "This alliance provides us with the opportunity to work together with
Arabian Healthcare Group to bring our clinical expertise to help build healthcare delivery systems that are sustainable for populations on a global scale."
CommonSpirit operates 140 hospitals and more than 1,500 care sites across 21 US states. Among the care centres widely recognized for clinical expertise in CommonSpirit's U.S. network are the Barrow Neurological Institute in Phoenix, Arizona; Baylor St. Luke's Medical Center in Houston, Texas Heart Institute; and Virginia Mason Franciscan Health in Seattle, Washington.
AHG operates RAK Hospital, the leading private hospital in Ras Al Khaimah, and provides healthcare services to the community through a network of clinics across the Emirate.
DHI is a member of the National Center for Healthcare Leadership's U.S. Cooperative for International Patient Programs (USCIPP). USCIPP is a consortium of American academic medical centres, hospitals, and health systems that work with international patients and institutions. USCIPP members lead peer-to-peer learning, research, collaboration, and open sharing of knowledge and industry best practices.