Off-Plan Real Estate Sales in Dubai Will Continue to Soar in 2023
January 15, 2023

4 minutes read
Dubai, UAE
According to the 2023 Premium Prediction study from international real estate firm Knight Frank, Dubai's prime residential prices are expected to experience the fastest growth internationally in 2023. Due to the growing interest in the market from high-net-worth people and overseas purchasers, prices are predicted to increase by 13.5% in the upcoming year.
Off-plan sales have had phenomenal growth, accounting for nearly 55% of overall sales volume in 2022 (up from 44% the previous year) and 56% of total sales value (up from 41% in 2021). High-end real estate in Dubai is expected to continue this increase, as the market is expected to continue to be driven by burgeoning international demand.
The Dubai Land Department has registered over 88,014 total transactions from 1 January 2022 to 1 December 2022; this is more than 60% greater than the same time period in 2021, which had 54,674 total transactions.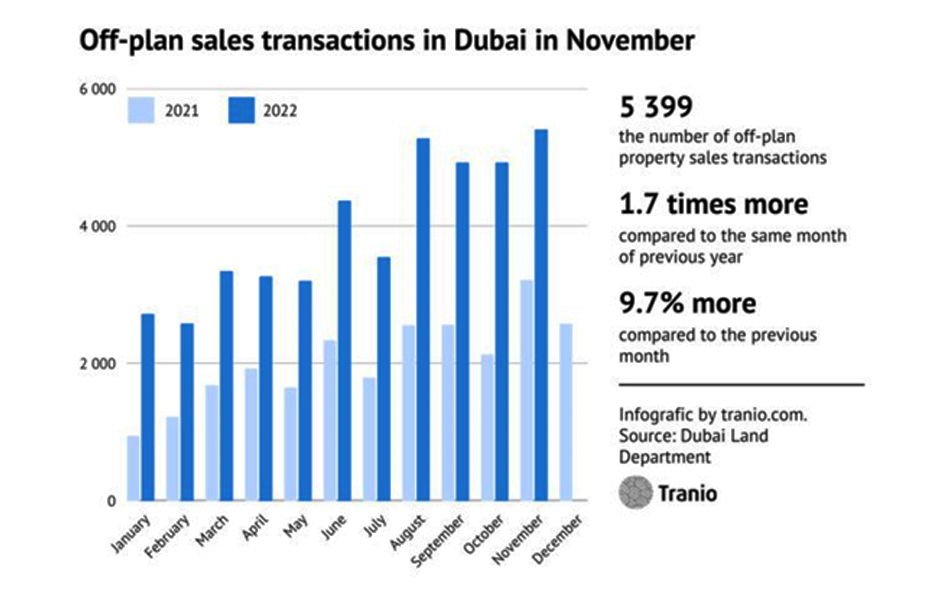 The Strength of Off-Plan
In November 2022, off-plan residential real estate sales reached a value of 3.7 billion US dollars, which was a two-year high. Investors' primary focus is on apartments. Nearly 8,000 transactions involving apartments were made, which is an increase of almost 74% from November 2021.
According to Abderrahmane El Alj, Chairman of Chaimaa Holding, Dubai Branch, "Our latest development, the beautiful Elegance by Chaimaa, was intended to give both an investment and luxury lifestyle vehicle for both investors and end users."
"It is no longer true to say that an off-plan home will be less expensive than a ready-to-move home. Customers today want products of a far higher caliber; while prices may be more due to organic spaces, distinctive ideas, high-quality materials, and sustainable solutions, the products themselves are of a far higher caliber." Abderrahmane concludes.
The absence of ultra-prime, waterfront, and luxury houses is the emirate's biggest problem. Developers are finding it difficult to act quickly enough, yet if we consider the approximately 81,000 units scheduled for completion by the end of 2025, Dubai could seem to have enough supply. But when that number is broken down, we can see that between 2023 and 2025, only eight new villas will be built in Dubai's most prestigious neighborhoods. The international elite are particularly drawn to smaller, more private developments in the current atmosphere because they offer upscale amenities and superior customer service.
In conclusion, smart developers will continue to move Dubai away from the days of Mediterranean-themed homes, with ultra-modern developments quickly beginning to dominate. This is due to the lack of properties available to meet current buyer needs and international buyer expectations. These homes will also feature extensive use of premium materials and modern perks like glazing, ultra-modern finishes, and architecture that transforms the residential landscape.