WHO WILL REPRESENT SAUDI ARABIA IN THE RED BULL NEYMAR JR'S FIVE FINALS IN QATAR?
April 8, 2022

4 minutes read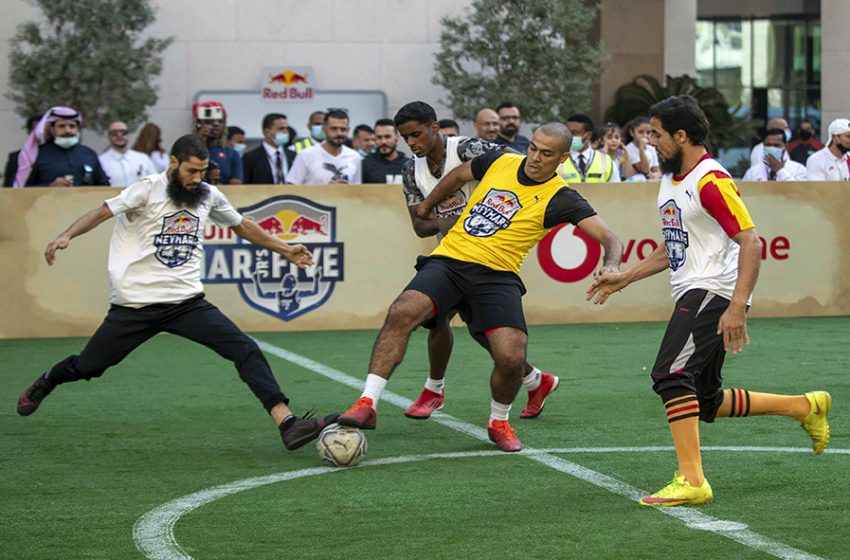 Riyadh, 8 April 2022
The countdown to the start of the Red Bull Neymar Jr's Five tournament—held for the first time in Saudi Arabia—has begun, with the aim of choosing the team that will represent the Kingdom in the "Super Final" of the largest five-a-side football tournament in the world, which will be hosted by Qatar this year.
The Saudi qualifiers, which kick off in a few days, will allow football fans to showcase their individual talents and skills five-player teams. The qualifiers for the male teams begin in the capital, Riyadh, on the Koora Park stadiums on April 7 and 8, and will head to Jeddah a week later, where they will be held over three days on the Koora Arena stadiums between April 14 and 16, along with the female teams qualifiers.
The tournament is open to anyone between 16 and 25 years old, and each team is allowed to include two players over the age of 25. For those who wish to participate, hurry up and register your teams on www.redbullneymarjrsfive.com.
The tournament is distinct, with players facing each other in an out-of-the-ordinary football format. No goalkeepers are stationed throughout the matches, and every time a team scores a goal, the opposing team loses a player. Matches last for ten minutes of nail-biting excitement, or until one team loses all its players.
Sixteen teams from the two qualifying rounds will go on to the national final, also held in Jeddah, on April 19. The Saudi national final will be a festive football occasion, held in the old historical city in Jeddah, and will reveal the five-a-side champions who will raise the Saudi flag at the World Finals in Doha, and aim to defeat everyone and achieve the dream of playing against Neymar personally.
When asked about the upcoming finals in Qatar, Neymar expressed his enthusiasm and joy for the return of the competitions in their current setup, saying: "It's been a long wait, but we will eventually see some of the most amazing teams from around the world meet again," adding, "I can't wait to see who will come out on top in this Super Final."
Red Bull Neymar Jr's Five is the Brazilian star's signature five-a-side tournament, bringing together players from all corners of the world to celebrate their shared passion: football. It is a fast, tactical, and fun competition. Countries across the globe will host qualifiers, where players will compete under one shared dream of making it through qualifiers and national finals, to book a ticket to the coveted World Final.