Stressing Quality & Affordability as Competitive Edges.. In Its First Debut in the MENA Region, the Canadian AXL Electric Vehicles Unravel its Sharx-5 SUV at the EVIS Summit
May 26, 2023

4 minutes read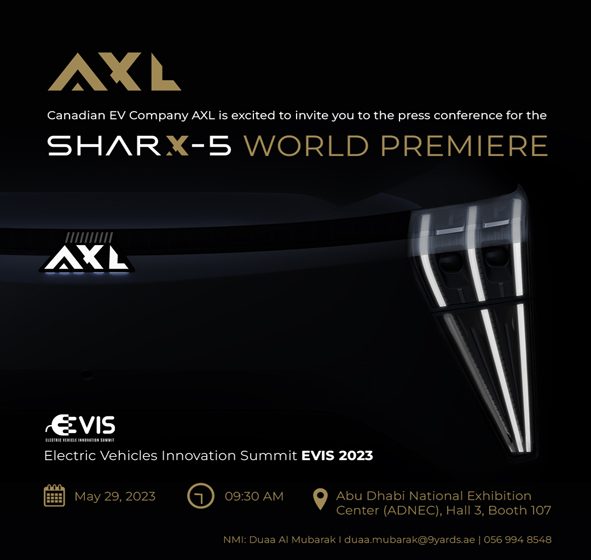 Abu Dhabi, UAE, May 2023
Anticipating EVIS Summit, the region's most important event to introduce and support the use of sustainable electric vehicles, is due to be held in Abu Dhabi between 29-31 May 2023, at which the Canadian electric vehicle company AXL will be revealing its new star; an all-electric SUV named SharX-5.
The Canadian newcomer to the promising market of electrical vehicles has chosen the GCC countries as its first market, giving the people living in the Gulf states the opportunity to be the first in the world to reserve their SharX-5 for free, with an anticipated delivery date of February 2024.
"Our company was founded on the belief that everyone must contribute towards climate sustainability. AXL is dedicated to making luxury electric vehicles more accessible for everyone willing to embrace this new electric lifestyle and help reverse the effects of climate change in a meaningful way," said Ali Eslami, AXL's CEO.
"Our new SUV SharX-5 is comparable to the best vehicles in the market, and we have put meticulous efforts into making it a new star in the market with state-of-the-art features and a range of 500 kilometres," AXL CEO added.
The Electric Vehicle Innovation Summit (EVIS) is poised to hold its second event at the Abu Dhabi National Exhibition Center under the slogan "Where EV Innovations Meet", providing a global platform where EV manufacturers, engineers, experts, business leaders, and EV-related institutions around the world can network and explore the latest technical and regulatory trends and market their vehicles.
During the first EVIS summit last year, AXL saw first-hand the overwhelming interest in EV technologies and possibilities in this region. "This is why we decided to host our world premiere during this year's event and to make the GCC our first market," said Vicky Snyder, Head of Communications for AXL.
They will be giving the residents of this vibrant region the exclusive opportunity to reserve their own SharX-5 SUV, which is comparable in performance to its competitors, but carries with it a much more affordable price tag.
According to SharX-5's launch plan, deliveries to the GCC countries will begin next February 2024. AXL will then enter selected European and Asia markets, and in 2025 it will enter the North American market. However, interested people from these countries can now reserve their own SharX-5 at www.axlev.com, and will be the first to receive it when AXL enters their country.