Slim With Cosmina's Prick-free Treatments Help You Get In Shape
May 19, 2023

4 minutes read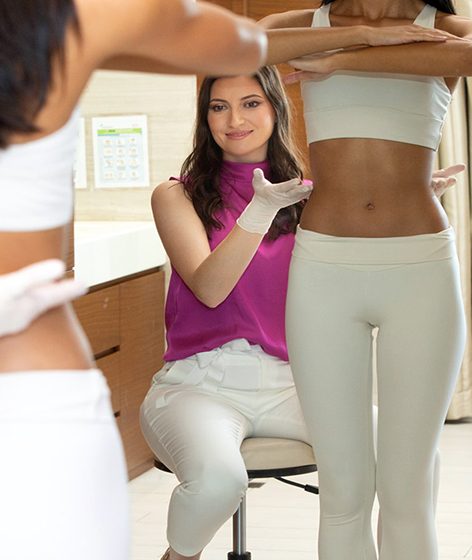 Dubai, 16 May 2023
Homegrown brand, Slim With Cosmina founded by Cosmina Moldovanu provides Non-Surgical Liposuction Alternative to get in shape or achieve your desired body. From models and fitness enthusiasts to mums and brides-to-be, the clinic uses specialized patented treatments to cater to them all. Located in Hilton Al Habtoor City, Slim With Cosmina offers body and face treatments for people looking to reshape and define the body's symmetry.
With more working from home, lack of physical activities, or even busy lifestyles, there is a sharp growth in demand for non-invasive options, diets, and other ways that can help men and women maintain their body shape. While cosmetology is an option, there are many who wish to have an hourglass figure, lose weight or simply maintain their physique using natural remedies or alternative treatments. Slim With Cosmina offers effective body and face treatments that do not require you to go under the knife, thus making them pain-free as well.
It is the brainchild of Cosmina Moldovanu who wanted to go back to her normal self when she gained 22 kilos after a hormonal treatment. Being a graduate of medical college with an MSc, Cosmina studied Nutrition, Dietetics, Food Science, and Food Quality Management for years. Her in-depth knowledge of these factors having a significant impact on body shape and proportion encouraged her to firstly try the treatments on herself. After years of research and self-trials, Cosmina discovered techniques to alter body shapes without the use of surgery for both, women and men. Slim With Cosmina offers muscle shaping, waistline creation, double chin removal, and face contouring treatments to name a few. Spearheaded by Cosmina herself who is a slimming specialist and nutritionist, it offers customized treatments after a consultation that highlights the patient's medical history, and lifestyle in comparison to the desired results for the best-suited treatments.
Speaking of the clinic, Cosmina Moldovanu, Founder of Slim With Cosmina, says, "We come across many people who want to get the perfect figure or at least go back to their younger- self but are not sure of treatments and procedures that are best for them. Our team and myself, guide them throughout the process to achieve better results. We believe everyone should be confident with their body and we are here to help them bring those changes one step at a time, without compromising on health."
Slim With Cosmina is located at Hilton Al Habtoor City in Dubai.
To book a consultation or know more information, visit www.slimwithcosmina.com.