Meet Your Skin's New Best Friend: The Most Advanced Sheet Mask from FOREO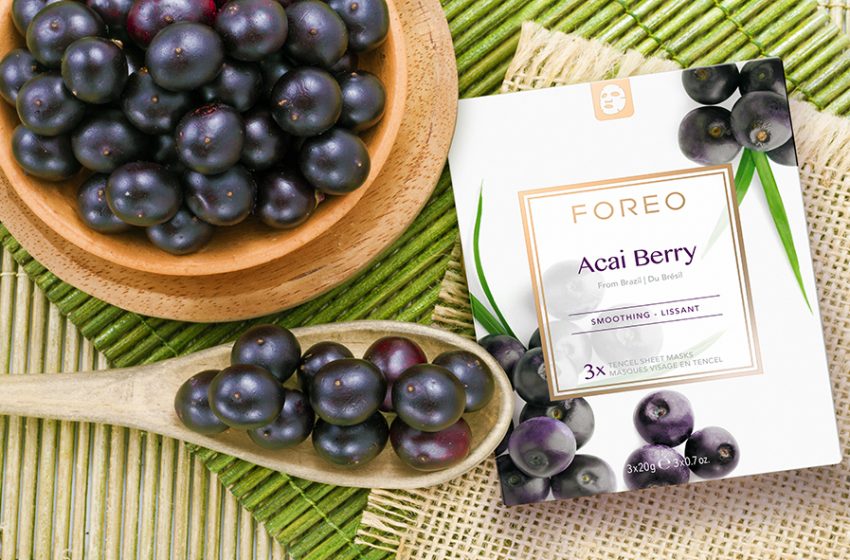 Experience skincare innovation in the form of plant-based, cruelty-free, eco-friendly sheet masks.
The sheet masks you didn't even know you needed: Prepare to take your mask game to a new level and experience naturally nourished skin with Swedish skincare brand FOREO's newly introduced Farm-to-Face sheet masks. Available in five different nutrient-rich formulas, each freshly-formulated sheet mask can be used as a regular relaxing 20 minute treatment – or supercharged with a power boost from the revolutionary UFO 2 smart mask device, which uses Hyper-Infusion Technology to enhance absorption for a refined and radiant complexion in just 2 minutes.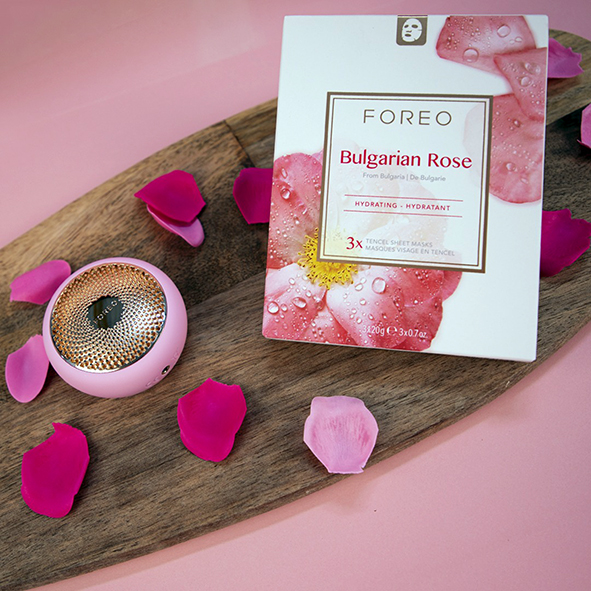 Each mask is created using premium, natural ingredients from destinations around the globe to cater to every skin's needs. Help heal environmentally-damaged skin with the Japanese Green Tea mask. Capture nature's fountain of youth with antioxidant superpowers from the Brazilian Acai Berry mask. Save dehydrated, lifeless skin with the hydrating, invigorating, Bulgarian Rose mask. The Indonesian Coconut Oil sheet mask is an instant solution for dry, tired, and dehydrated skin. While the Manuka Honey mask is the perfect pick-me-up to combat aging skin.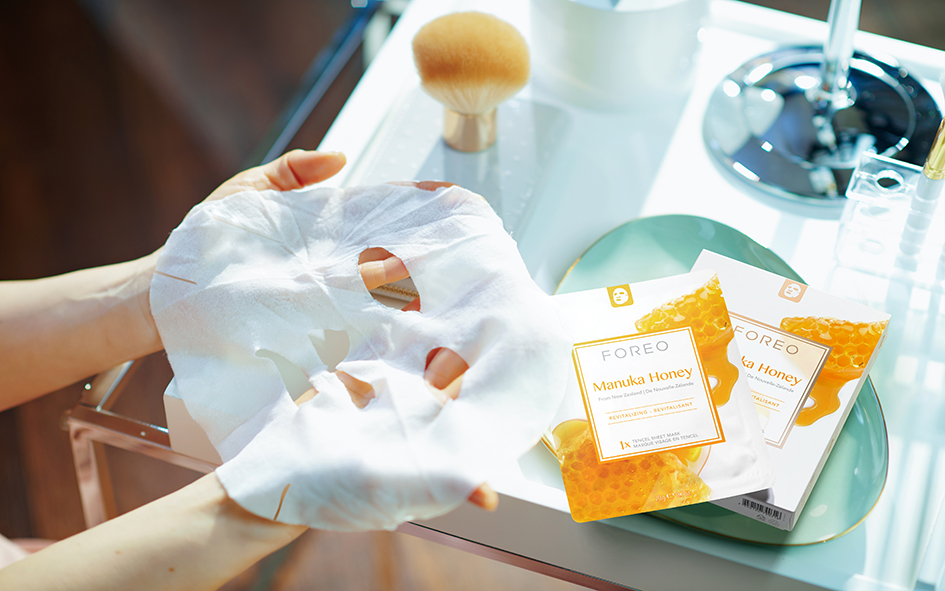 Each cruelty-free, eco-friendly mask is made from natural cellulose derived from eucalyptus wood pulp and ultra-smooth tencel that is fully biodegradable. Due to its moisture management, Tencel is also 10x more resistant to bacteria growth than cotton giving you peace of mind with clean and safe formulas that are dermatologist tested and suitable for all skin types.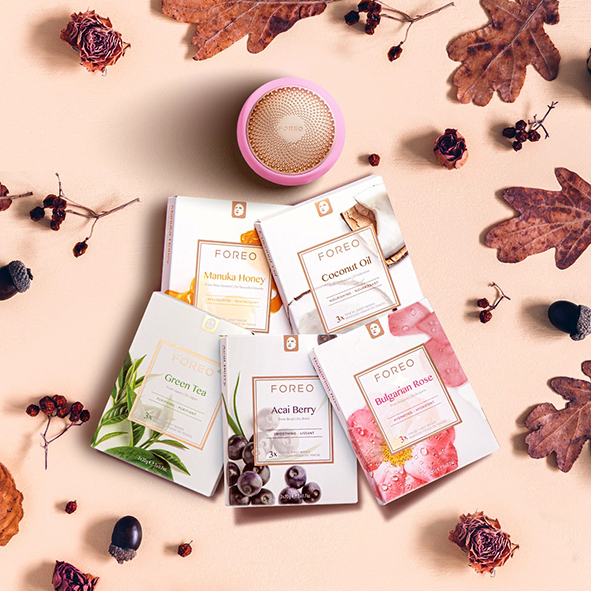 Like a green smoothie for your skin, each mask is packed with essential vitamins and nutrients for a healthy-looking complexion. Inspired by the success of FOREO's UFO Power-Activated Masks, the company that prides itself on revolutionizing skincare defines a new standard for the way you sheet mask, with the World's First Dual-Mode Sheet Mask.
Bulgarian Rose Sheet Mask – AED 75
Infused with all-natural rose water sourced from Bulgaria, this lightweight formula helps transform dull, dry skin into a perfectly-hydrated complexion with a boost of radiance. The natural nutrients found in rose petals trap moisture in the skin, making it look smoother and softer.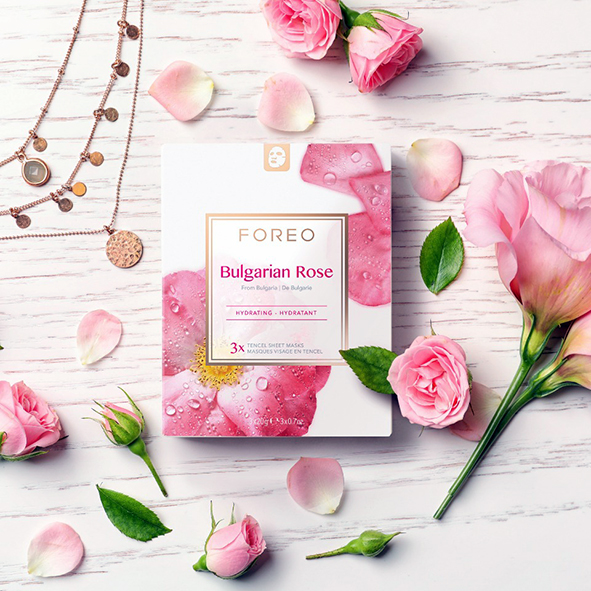 Manuka Honey Sheet Mask – AED 75
Made with real manuka honey from New Zealand, this nutrient-rich formula softens skin and enhances elasticity for a radiant and soft complexion. Achieve a radically revitalizing facial treatment that will leave your skin younger-looking thanks to nutrient-rich manuka honey.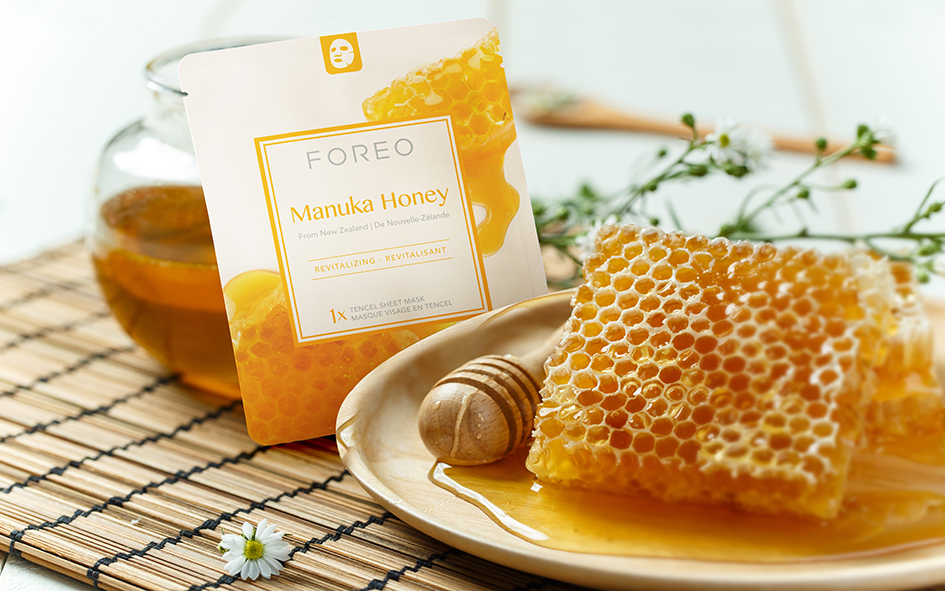 Acai Berry Sheet Mask – AED 75
Revive the youthful vitality of your complexion with this skin-smoothing mask that will leave skin plump and youthful. Packed with antioxidants from Brazilian acai berries to restore skin's vigorous radiance and revive dull, fatigued skin.
Coconut Oil Sheet Mask – AED 75
Treat your skin to a hydrating oasis with this ultra-rich formula for a deeply nourishing facial treatment that will leave skin dewy and soft. The antioxidant properties of Indonesian coconut oil help to deeply hydrate skin for a smoother, more supple appearance.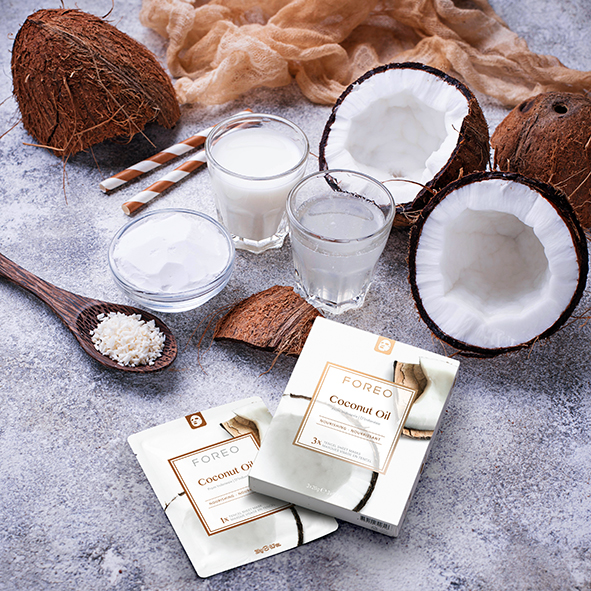 Green Tea Sheet Mask – AED 75
Soothe and condition stressed skin with one of mother nature's most potent sources. The Japanese Green Tea Sheet Mask gently purifies and protects skin irritated by environmental stressors. Although suitable for all skin types, it is most beneficial to oily, stressed, and blemish-prone skin.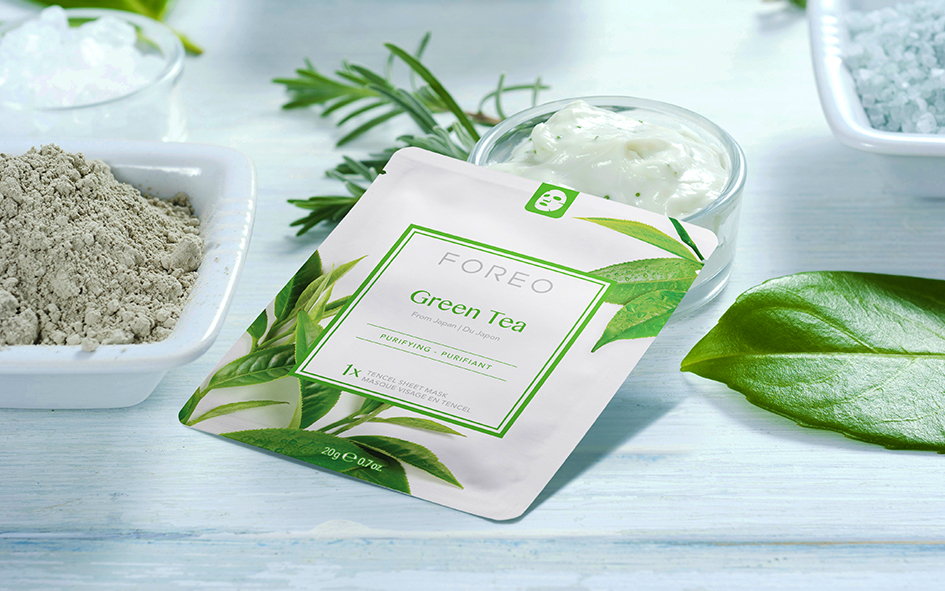 FOREO Farm-to-Face Sheet Masks are available on Namshi.com