Jacquie Aiche, Founder and Designer "Jacquie Aiche"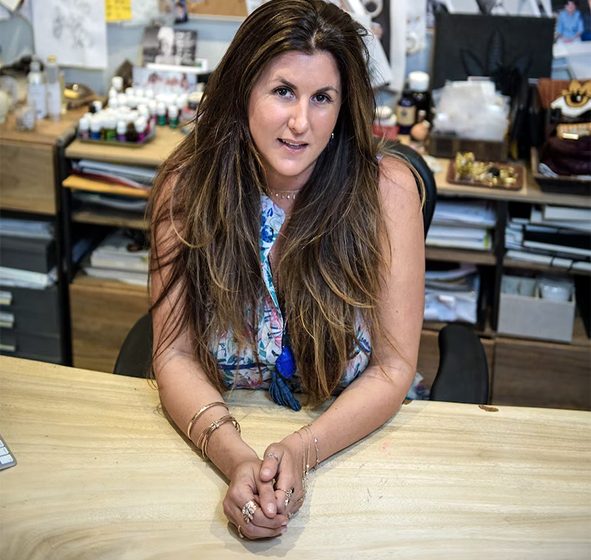 "A woman's natural beauty can be illuminated with the right piece of jewelry, my mission is to create jewelry that will make every woman look and feel uniquely beautiful." – Jacquie Aiche
Growing up Jacquie Aiche would collect beautiful ornate rocks, feeling a deep sense of connection to their healing powers. She would later discover that her passion for creating beautiful pieces, as a form of creative expression, would translate into an internationally acclaimed jewelry label adorned by A-List celebrities.
Having been raised in a multicultural home to both Egyptian and American parents, Jacquie explains that the unique tapestry of her blended cultural heritage has deeply influenced the signature aesthetics of her designs. The merging of Native American turquoise relics, fossils and precious gemstones, with the Middle Eastern nuances of hammered gold, amulets and goddess imagery, is what drives her design philosophy. Jacquie Aiche designs, much like the woman herself, are the sartorial embodiment of ethereal ease with a flash of rebellion.
She speaks of the early days, "When I started the collection, it was just a hobby. I always told people I wasn't a designer." Jacquie explains that her sole intention for the brand was to evoke a spiritual connection between the jewelry and modern wearer: "I create for those who adore to be adorned. Lovers of precious stones, believers in the energy of minerals. Women who live for their diamond details and sensual layers".
But where did it all begin? In 2007, Jacquie was managing a boutique clothing store on Sunset Plaza in LA, where she says she became frustrated with the limited styles of fine jewelry available, "Everything was mass-produced and of an old fashioned, traditionally plated style". Jacquie began creating, out of her garage, her own line of eclectic pieces to sell in-store.
Her trademark piece which debuted in 2009 was the 'finger' bracelet, and she says no one had seen anything like it before in jewelry design. "That's really when the wildfire started. I was always about the art of layering, and with the finger bracelet I just wanted to add another kind of layer." Soon the piece had got the attention of Rihanna, who to this day is one of Aiche's main fans of the brand, the demand very quickly skyrocketed, leading Jacquie to expand the brands collections and team.
Jacquie can often be found traipsing barefoot through her Beverly Hills showroom (the neighbourhood where she grew up and still lives today), tending to her enchanted gardens, or carousing with the brand's ever-growing list of celebrity clientele. She says, "I'll always be inspired by my muses, Rihanna, Alessandra Ambrosio, Behati Prinsloo, Emily Ratajkowski, Chanel Iman, Shanina Shaik, Gigi Hadid, and Blake Lively. I feel so fortunate to have them in my tribe. Seeing powerful and inspiring women wearing my designs is a dream come true."
In 2011, Aiche designed a one-off bespoke engagement ring for then-fiance of John Legend, Chrissy Teigen, "The engagement rings come from the same place as all my jewelry—I like bringing people joy and making them happy" she says. Rihanna was such a huge fan of Aiche's designs, she even collaborated with the brand to launch a line of jewelry inspired body art in 2015.
What's the future for Jacquie Aiche? Inspired by her travels, she recently launched a handmade ceramic set, she says "Often when people come into the showroom they say I want this or that in my home, so I started to explore and have since created bespoke decorative lifestyle pieces for my clients.".
The jewelry can be bought online at www.jacquieaiche.com and in over 40 prestigious retailers across the world.
For more information and full list of stockists visit  www.jacquieaiche.com