From Thailand to Riyadh, HARNN Heritage Spa brings its prestigious wellness sanctuary to InterContinental Durrat Al Riyadh Resort & Spa
November 9, 2023

8 minutes read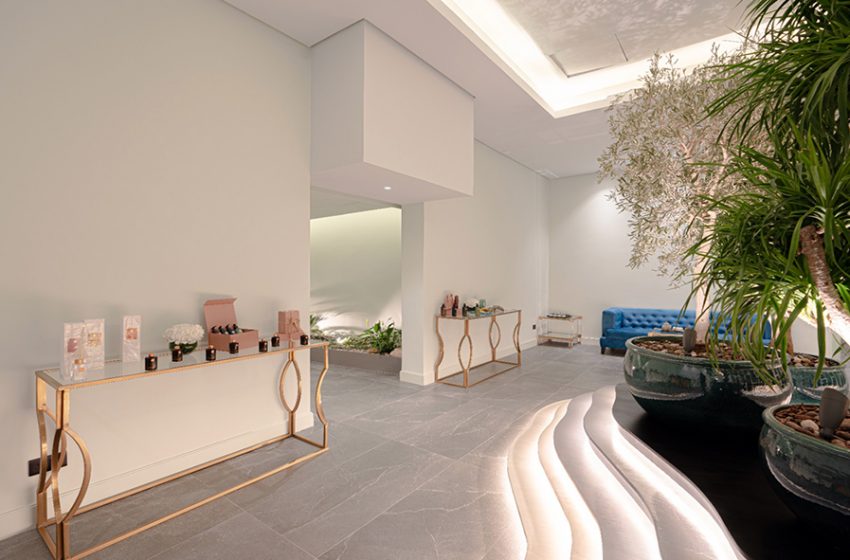 Spreading its gracious wings across the Middle East, HARNN Heritage Spa has drawn its first sanctuary of serenity in the heart of Riyadh.
Riyadh, Saudi Arabia (1 November 2023)
Thailand's prestige wellness brand – HARNN Heritage Spa has debuted its unique offering in the kingdom with the highest pride with the official opening of its first Riyadh Thai-inspired wellness destination, following the formal restoration of diplomatic ties between Saudi Arabia and Thailand.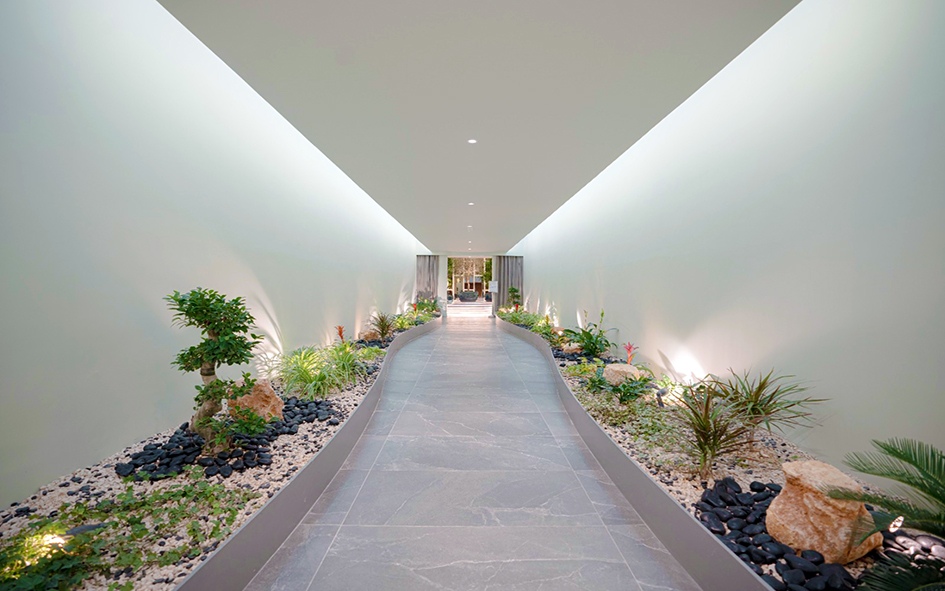 Hidden in a lush green oasis of the distinguished neighbourhood of Banban, the 5-star InterContinental Durrat Al Riyadh Resort & Spa, HARNN Heritage Spa features a temporary escape from the chaos of urban living through a world-class service journey performed by skilful and dedicated therapists from Thailand.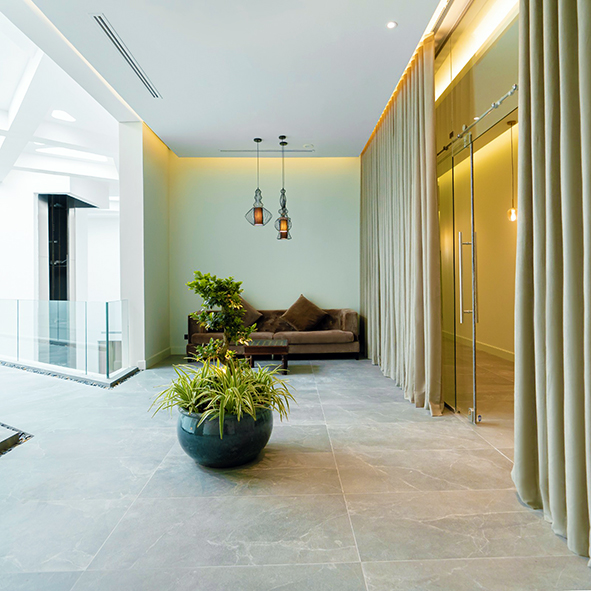 This ultimate rejuvenation oasis is brought to life by the renowned hospitality design company Well Architecture and Design with unique elements portraying a highly contemporary Thai-styled wellness sanctuary. The spa is inspired by elegantly classic Thai noblemen residence with a soft celadon green, symbolizing peace and serenity while precious artwork and sophisticated artefacts add a sense of place to the space. 
Divided into two storeys with a series of double-height atrium spaces, the spa features 15 treatment rooms in total comprising luxurious suites with dedicated sauna, steam and jacuzzi, and generous standard rooms with further reflexology and hammam rooms.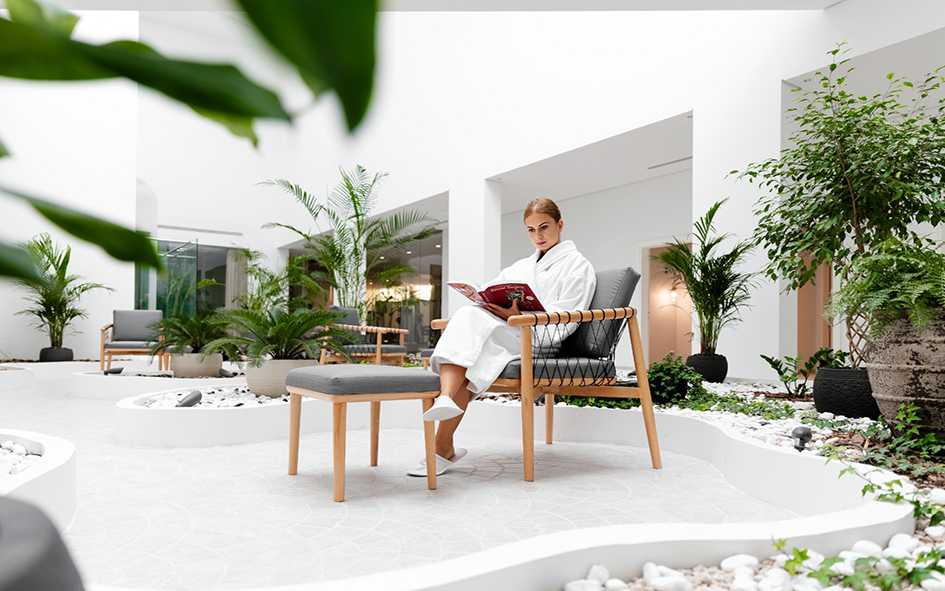 The ground floor provides a unique two-storey top-lit 'forest' garden, around which a retail gallery, salon, gym, 'wellness bar' and pool. The spa is designed as an evolving journey through a series of differing settings- offering a variety of places for guests to enjoy wellness experiences. At the heart of the design is a tall top-lit internal 'forest', providing the guests with a unique opportunity to relax within the extensive planted areas and benefit from the biophilic character of the setting.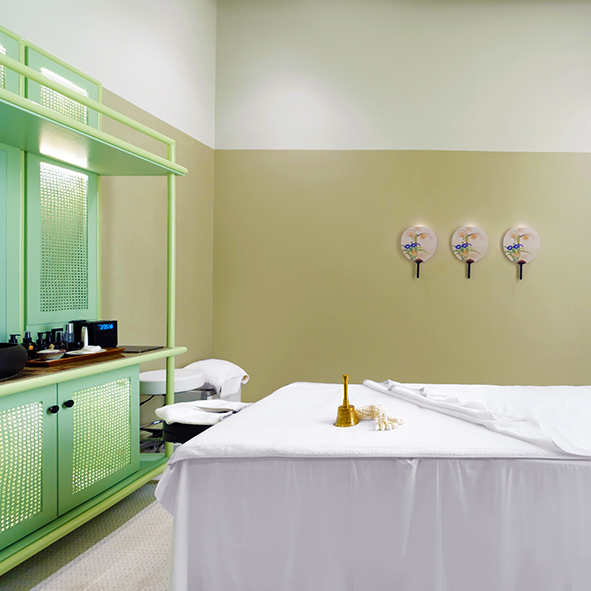 Home to ancient healing practices that have been perfected over thousands of years, Asia's comprehensive wellness traditions are specially designed to enhance the harmony between the five senses for a balanced body and mind.
Drawing inspiration from the prestigious locale and finest botanicals, the spa meticulously incorporates indigenous natural elements, including hot sand, purified essential oil and oriental herbs, to craft signature spa experiences that can't be found anywhere else – Journey of Arabian Heritage, starting with a purifying hammam ritual by a gentle exfoliation with HARNN signature rice bran oil soap and a UNESCO recognized cultural heritage Nuad Thai Massage with therapeutic and reinvigorating techniques, complemented by a warmed sand compress with healing essential oils. Together, palm pressure, stretching and heat melt away muscle tension, leaving the body relaxed and in a state of bliss.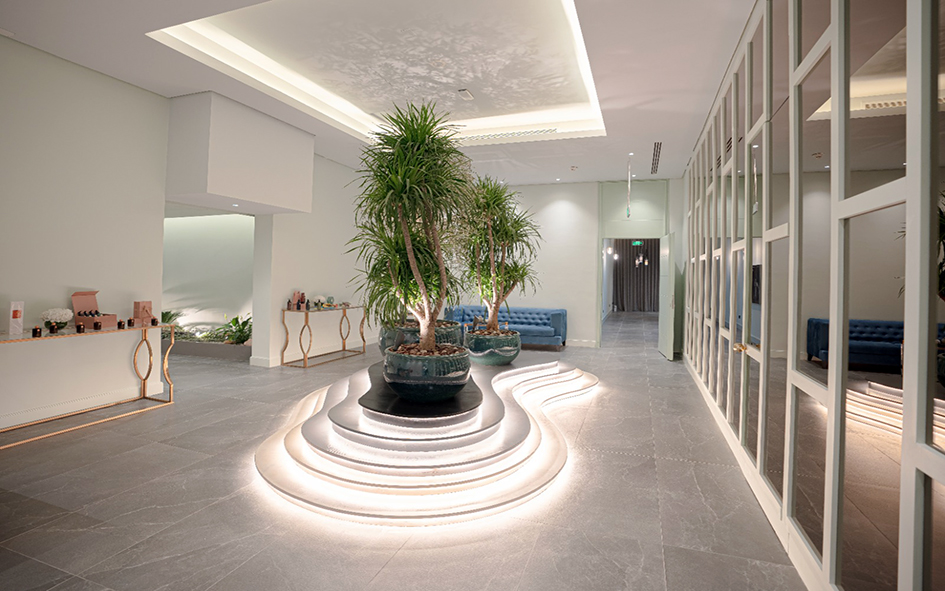 Additionally, to achieve physical and spiritual harmony, the Ancient Asian Five Elements Philosophy is masterfully applied to the art of aromatherapy healing. Before each treatment, guests will discover their dominant element – fire, earth, water, metal or wood – and the appropriate essential oil blend to help rebalance the element.
Offering a more meaningful and quality lifestyle, the guests are invited to embark on wellness retreats which are personalized to their health and lifestyle goals with an array of holistic spa treatments, pedicure and manicure services, healthy food and beverage, access to wellness facilities and a wide range of self-care retail items for the ultimate lifestyle enrichment.
HARNN Heritage Spa has been delivering an exceptional spa experience around the globe while incorporating Asian wisdom to elevate the quality of both products and services over 20 years of success with its grandest accolades as "Global Spa of the Year" in 2017 at World Luxury Awards and "World's Best Resort Spa" at World Spa Awards in 2019.
InterContinental Durrat Al Riyadh Resort & Spa is the first urban luxury resort and spa in Riyadh featuring 162 extensive guestrooms, suites and stately private villas each with a private outdoor swimming pool, and six dining outlets providing unique and authentic culinary experiences with traditional and international flavours. Located at the northern gate of Riyadh, the resort resides on 154,000 sqm of a lush green oasis with a lagoon and exclusive cascades for guests to unwind and relax with an extensive range of recreational facilities including indoor & outdoor pools, two padel courts, Grand Durrat ballroom, eight meeting rooms, and stunning lush green outdoor spaces, perfect for soirees, corporate meetings and exhibitions.
For bookings or further information, please call HARNN Heritage Spa at InterContinental Durrat Al Riyadh Resort & Spa at +966 55502 8498 or email SPA.icdurrat1@ihg.com