Enjoy radiant intense colour and shine this EID with Palette Intensive Color Cream from Schwarzkopf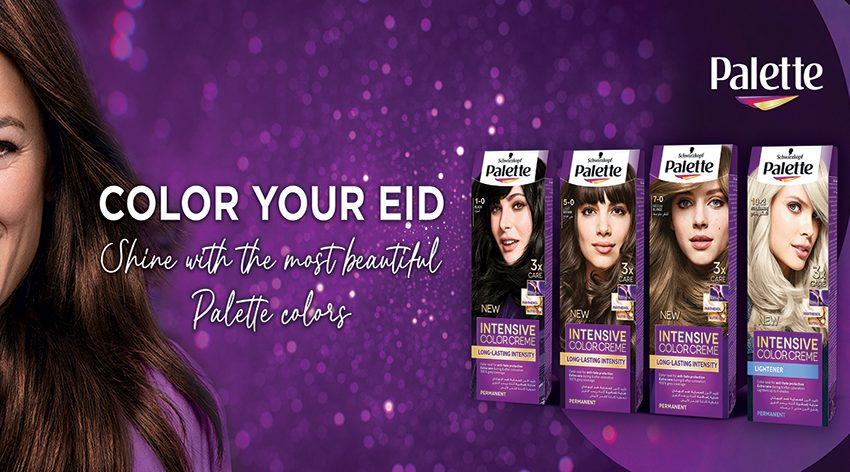 Palette Intensive Color Cream will give you a standout hair look for every shade of you
13 April, 2023
Achieve nourished hair and better colour this EID with the popular Palette Intensive Color Cream range. Its unique Triple Care System formula in combination with the formula's rich, nourishing treatment, allows colour pigments to penetrate deep into the hair while helping to prevent damage. The result is long-lasting, high colour intensity and radiant hair. The Palette Intensive Color Cream range offers top quality at an attractive price.
Consumers are asking for perfect grey coverage, strong colour intensity and optimum hair care; and the Palette team has responded with an updated formula and packing in the new Intensive Color Cream range. When combined with the developer emulsion, the colour cream ensures that colour pigments penetrate deep into the hair shaft. The result is a bold, long-lasting colour result. Depending on the shade, the special, enhanced formula is perfect for covering heavily greyed hair with an even, long-lasting colour.
The Triple Care System formula with intense colour pigments and ultimate Keratin strengthens the hair and deeply fuels colour into every fibre for long-lasting pigment retention and healthy-looking hair.
After colouring, the rich care treatment mask with Keratin, Panthenol and Nutri-oil, provides an extra care effect for your hair. Sealing in the magnificent colour, for stronger, smoother and super shiny hair.
The Palette Intensive Color Creams are available from your nearest hypermarkets, supermarkets, and pharmacies, with a shade for every colour desire – blondes, brunettes, black, red, copper and many more; find your perfect Palette Intensive Colour Cream colour for this 2023 EID festive season.