du ICT to offer Cisco technology solutions on its new marketplace platform
November 18, 2023

3 minutes read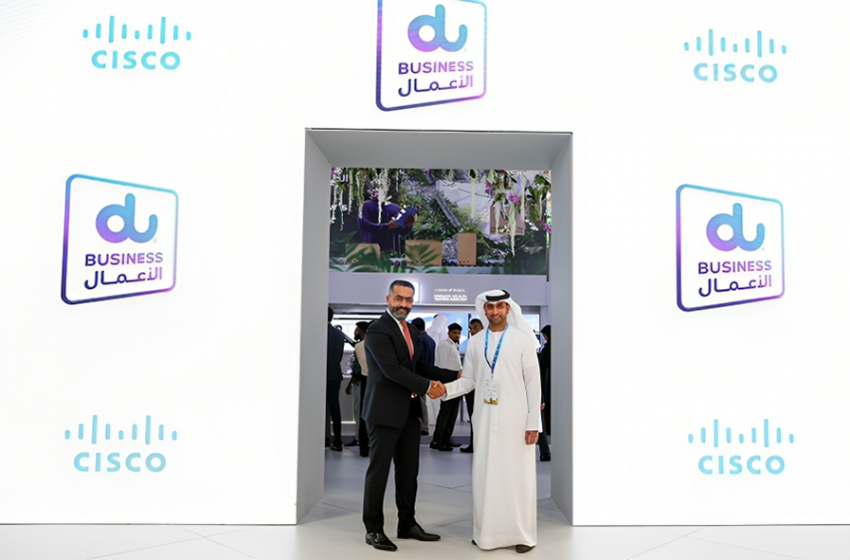 New collaboration to enhance service quality, streamline business operations through offering Cisco products and services via du's hybrid cloud and telco infrastructure.
Dubai, UAE, 17 November 2023
du, from Emirates Integrated Telecommunications Company (EITC), today announced a collaboration with Cisco, whereby Cisco's cutting-edge products and services will be available on the du ICT marketplace to cater to the growing technology demands of customers. This further strengthens the joint efforts between du and Cisco in driving innovation across the UAE and represents a significant milestone in du's journey towards delivering best-in-class offerings to its valued customers.
As a result, this expanded partnership opens new channels to access Cisco technology in the UAE, with a seamless experience for du customers in consuming Cisco technology managed and powered by du's platform. The offerings will align with du ICT's focus pillars, including next-generation technology, security, and collaboration tools, which are vital in enabling hybrid work.
Fahad Al Hassawi, Chief Executive Officer at du said: "We are thrilled to strengthen our partnership with Cisco make its security and collaboration tools available on the du ICT marketplace platform, we can offer our customers a wider range of cutting-edge solutions that enable them to thrive in the evolving digital landscape. This collaboration emphasises our commitment to delivering best-in-class security solutions and driving innovation in the UAE."
By joining forces with Cisco, du ICT aims to achieve several key objectives. Firstly, du's extensive best-in-class partner ecosystem will complement their cybersecurity full spectrum capabilities, providing customers with the most comprehensive solutions. Additionally, the combination of Cisco's cybersecurity products and services with du's hybrid cloud and telco infrastructure will enhance service quality, streamline business operations, and reduce costs through applied cybersecurity automations.
Mohamed Tantawi, Managing Director, Telcos and Service Providers, Cisco, META at Cisco said: "At Cisco we believe in the power of collaboration and innovation. Joining forces with our trusted partner, du, to sell our solutions on the du ICT marketplace allows us to expand our reach and deliver unmatched value to customers. This collaboration is a testament to our commitment to addressing the evolving needs of businesses in the UAE."