Announced in a press conference attended by "Al Zaaeem" stars.. Al Ain Club and EIH Ethmar International Holding sign a 2-year partnership contract
September 5, 2023

6 minutes read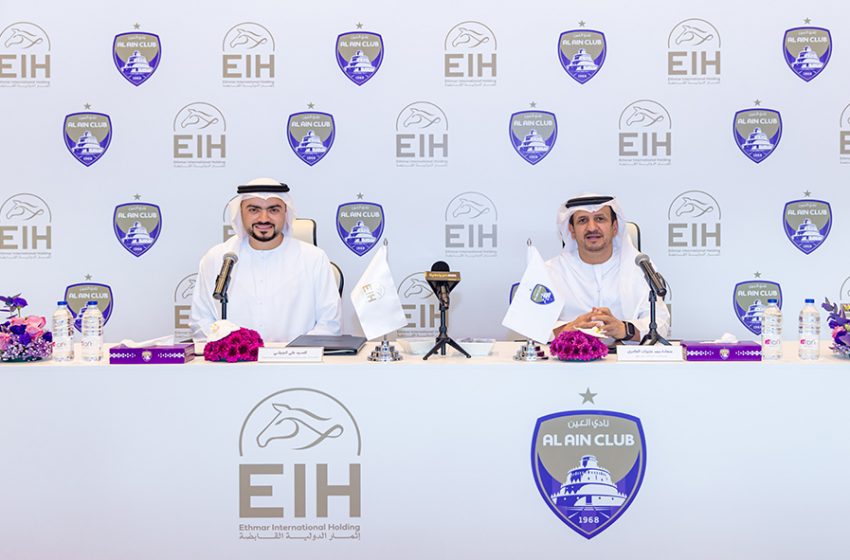 Hamad Nukheirat: "Proud of our partnership with one of the leading national and global entities".
El Gebely: "Proud of our partnership with one of the best clubs in Asia".
Abu Dhabi, UAE – 28 August 2023
During the press conference held this morning in the hall of the Chairman at Hazza bin Zayed Stadium, Al Ain Club and EIH Ethmar International Holding PJSC "EIH" announced the conclusion of a marketing and strategic partnership contract, through which EIH, the leading national company in investments and business management development in the Middle East, will be a strategic sponsor of Al Ain Club and starting from the current season, its logo will be displayed on "Al Zaeem" T-shirts on the backside. The signing ceremonies were attended by H.E. Hamad Nukheirat Al Ameri, the Managing Director of Al Ain Sports and Cultural Club and its subsidiaries, and Mr. Ali El Gebely, the Managing Director and Group CEO of EIH.
Moreover, some stars of "Al Zaeem" were keen to attend the important press conference led by Muhammad Obaid Hammad, member of the Steering Committee of Al Ain Football Club Affairs Management, Soufiane Rahimi, the Togolese Laba Kodjo, Kouame Autonne, Erik Jurgenes in addition to some representatives of Al Ain Club and EIH and a number of local and international media.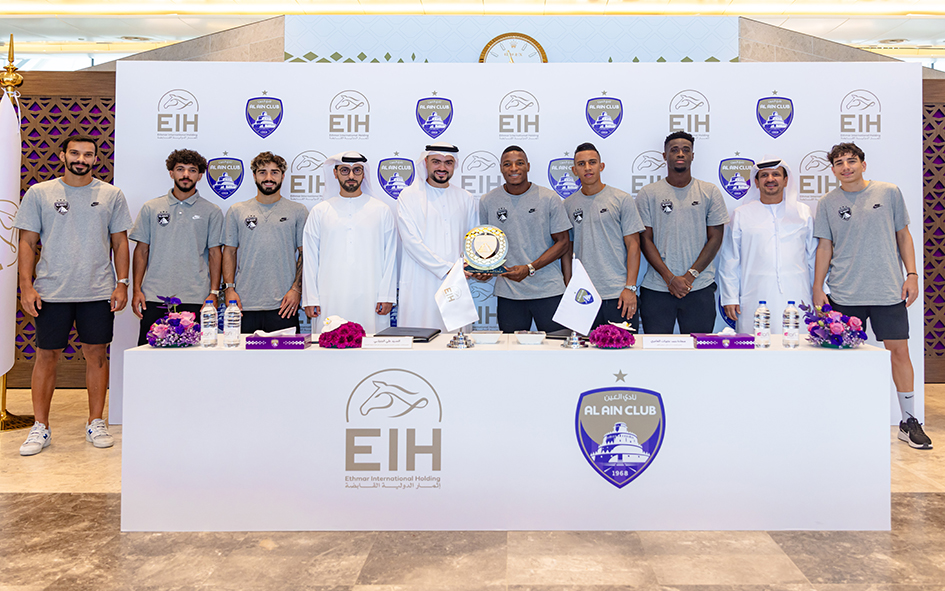 The Managing Director of Al Ain Sports Club welcomed EIH's joining Al Ain family, stating that: "This partnership is part of Al Ain Club's strategy of expanding in cooperation with the leading companies in different fields and is aimed at promoting the relationship between Al Ain Club and EIH through exchanging experiences and increasing the scope of joint marketing operations that would enhance Al Ain position and expand its investment scope".
Moreover, the Managing Director expressed his happiness about this marketing milestone, referring that the partnership with "EIH" will contribute greatly to developing Al Ain investments and achieving its future targets, emphasizing that: "The family spirit that distinguishes the work of our partners, particularly EIH, reflects our success in keeping abreast of trends of development and the common future vision which will enable us to occupy the prestigious position among the leading international entities through embodying the true concept of the principle of excellence, superiority and success in all fields".
"We at Al Ain Club are proud of officially adding one of our leading national entities and one of the biggest international companies in investment, energy, real estate, technology, health care, and hospitality sectors to "Al-Zaeem" partners, with a two-renewable-season contract. The announcement of the new sponsorship contract with EIH is associated with Al Ain's direction to investment in several sectors." he added.
"This is an exceptional season for "Al-Zaeem" which will defend the UAE name in the AFC Champions League, the preferred champion for Al Ain players and fans. We're looking forward with our partners to achieve the expected ambitions under the high patronage and unlimited support of the Club Presidency for "Al-Zaeem" to achieve the best results on the local and continental levels and delight Al Ain loyal fans." Al Ameri concluded.
For his part, Mr. Ali El Gebely, Managing Director and Group CEO of EIH said: "We take pride in announcing our sponsorship for such a prominent club as Al Ain Football Club, which has a well-established reputation locally, regionally, and internationally. This marks our initial steps in sports
sponsorships, as we are preparing to expand our sponsorships on a global scale. This sponsorship comes as part of our corporate social responsibility to support local clubs and sports institutions, thereby helping them achieve greater success. It also reflects our aspirations as a leading investment company and an active contributor to the UAE economy."
"This initiative falls within the framework of our ongoing efforts to support talents in the country, especially in sports, which will lead to significant achievements across all levels. This sponsorship is a mere introduction of documenting and strengthening the partnership between EIH and Al Ain Football Club, hoping that this joint cooperation will lead to the future goals of both parties", he added.
It is a noteworthy point that Al Ain Club, as part of its attempts to be one of the best professional sports clubs in the region and globally, managed to make marvelous sporting achievements, and in turn, EIH possesses a proven track record of establishing and acquiring more than thirty successful companies working in six main and diversified sectors.